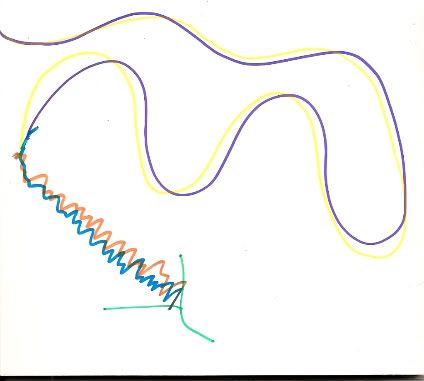 ALBERT'S BASEMENT (MELBOURNE)
What do I know about the people whose tapes I've been distributing, or even about the labels themselves? Very little. A name and a location usually, and sometimes I can deduce that a band or two on the label is the handiwork of the label-head. So it is my own curiosity behind these interviews as much as any thought about readership, though I hope they are interesting to more than just the die-hards. Discovering Matthew Hopkins' (of Naked On the Vague)
Near Tapes
label made me very curious about the Australian music scene and the wealth of interesting music it was generating. When Albert's Basement, out of Victoria/Melbourne, got in touch with me about organizing some mutual distribution, I was eager to ask man-in-charge Michael about the tape and underground music going on around him.
Who are you and how long have you been running the label?
I'm a nobody from the inner suburbs of Melbourne. Was a grade A student then did average come exam times. I love shopping at the queen Victoria market and rolling around on my purple sheet bed. Label's been going since latish '08, Albert's Basement's been around doing shows since March '07 before that.
How would you characterize the Australian music scene versus other scenes in other countries?
I'm no judge really, all I can tell is there's shitloads of amazing stuff happening all over the world. Apart from Australia I've mainly been getting into the American scene with bits and pieces from Europe and elsewhere too. There's less people in Australia, so its harder I guess, but instead of isolating totally it means real nice bonds form. But also great things begin and die quickly without enthusiasm gathering. That's the first question I didn't really answer… Australian people are alright, mate.
How would you characterize the Victoria scene versus the Sydney scene?
Well Melbourne is the 'it' place for bands in Australia, at least in this decade, but that means there's a lot of boring bands here too, but a lot of good stuff all week long. Near Tapes and Rest In Peace Society are doing wonders in Sydney/NSW, plus Spanish Magic and Break Dance The Dawn (now in Brisbane).
I think you'd characterize it the same way as the Eggy things, our Taco Leg or Constant Mongrel is your Woolen Men, etc.
People are just doing things that are fun, having fun times with people, that's the aim! Also, there's lots of opportunities for far out bands here in Melbourne, but its tougher in Sydney, no venues etc..
How would you describe the relationship between the Australian and New Zealand scenes? Is there a lot of fluidity in terms of bands and musicians going back and forth?

No. All the good bands hardly ever tour in Australia. I saw Pumice from NZ play in Melbourne recently which was a real treat. A few great bands have sort of come from NZ to AUS I think (Garbage and the flowers, The School Of Radiant Living).
Pat from Sunshine And Grease (the best record store in Melbourne) stocks a lot of great music from NZ like pseudo arcana label etc. There's a connectedness between AUS and NZ in all the great music that's come from each over the last 40 years and the differences in character are beautiful. But yeah I haven't gotten around much, I'm gonna start soon. I'm releasing something for With Moths from NZ, that dude seems real nicey. BUT the whole relationship is a world thing now I guess, yeah everyone's isolated but connecting with people doing like minded things on other half of globe. Like Garbage And The Flowers who I mentioned having just as much in common with Rosemary Krust from Maryland than any of the bands in Australia. It's a global scene? It prolly feels like that more here 'cuz we're so far apart from other cities and there's not many people.
One of the things I noticed on the Your Colla comp was the prevalence of drum machines and synthesizers, and the absence of guitars and traditional drum kits -- do you think that represents your personal taste in terms of what you curated for the tape, or do you think that's what people are thinking about in Victoria/Australia right now?
Nah I love guitars, and give me drums babeee! The inspiration for this tape came from dancing round my room to Nite Jewel, coming across Jeans Wilder and when those two combined with the songs I'd heard of SUPPER the idea of the tape was born. Skewed moods, I guess. So I guess its more how I curated the tape. I feel its all happening in Australia at the moment. Primo bands in all genres and in between all over Oz mate, every corner they're at it doing it. We've got awesome bands making magic happen all over Australia right now, its amazing.

Why do you think tapes appeal to people right now?
Cuz they're fuckin' cute things, real mysterious, you never know what you're gonna get with a tape, such a strange format and listening experience. Fun. Tape tape tape tape tape. Because it's the opposite of the way the world is racing up? Some people like tape. Some people don't want tape!
What have you been listening to lately?
The Supreme Cool Beings (in the kitchen)
Vincent Over The Sink
Them Themselves Or They on Malt Duck!
Anything on Night People
The Polyps
All the good Australian stuff, yeah!
Human Adult Band 1-sider
All the good stuff in the world
What's in store for the future of Albert's Basement?
Quiet down with some tapes - First up is The Heartbeat, Team Red, 6majik9, Terror Bird, and split between Pissypaw and Weirding Module. 3 American bands, 1 North Australian and 2 from my home city. Plus keep the mini distro going getting stuff in I really love and trading/selling it to the enthusiasts. Sell all the old LPs…. Thats what happens in the Basement.. funk it up with all the colour balls…
-And now, the tapes:
YOUR COLLA THE COLOUR OF MOUNDS - V/A - ALBERT'S BASEMENT 12
Nice comp of fringe pop from the Australian and North American undergrounds. Some familiar names might be Nite Jewel, Dirty Beaches, Jeans Wilder, Pink Priest. I'm particularly a fan of the Nite Jewel track, a German language cover of some sort with the right pop moves. The Australian acts make up a pretty good snapshot of what people like us who live in Australia are up to, which turns out to be drum machines and a couple laptops. Always fun to have a glimpse into another scene in progress. This tape holds together surprisingly well, definitely a "sound" being documented here. Everything more or less a little hazy, a little poppy. $5
PINK PRIEST - INFANT TAPE - ALBERT'S BASEMENT 11
Dark, heavy synthesizer music, delivered in two or three minute shots. Songs rather than 'scapes, though they are quickly buried beyond recognition by the massive synths. There's definitely some doom in there. The man has a vision all his own, it'll be neat to hear where he goes with it. $5
OSCAR VINCENTE SLORACH-THORN - TEETH - ALBERT'S BASEMENT 10
Pleasantly unclassifiable tape, I would maybe call it scuzz-house? One long-form, very rhythmic track stretches across both sides of the tape, and covers a lot of ground, rarely staying in one mode for longer than a few minutes. I think what makes this one stand out is the focus on the voice -- almost every sound on the tape comes from Mr. Slorach-Thorn's mouth. Not that he's a uniquely talented vocalist, but that it puts a very personal touch on the careening mass of sound, something that is too often faceless. $5